StructX > Resources > Structural Engineering Hand Calculations
Future Records
Whether it is performing a quick check for a preliminary assessment or to confirm the output of other methods, hand calculations are an important component of any structural design. Calculations which are clear, concise, follow a systematic process and are well referenced not only allows the design to be revisited at a later date without the need for excessive time and energy to get up to speed, but also can be a good template for further work like creating spreadsheets and the process is also beneficial for the design thought process. StructX has provided example designs of three commonly adopted calculation layouts below.
Although there are many ways hand calcs can be documented, good hand calculations should contain the following information in a well presented manner:
In the Title Block
The title of the project or job that the hand calcs are a apart of.
A description of what the hand calculations will be looking at or investigating.
The design engineer who conducted the calculations and the date they were performed.
The checking engineer who conducted checks and the date they were done.
If there are multiple pages then adding these is also beneficial.
In the Main Section
A Title and/or Subtitle.

Each new section or deviation from one component to another should be labelled clearly.

A clear, easy to interpret and correctly scaled diagram or picture

Generally speaking, pictures should be used to show information that would otherwise require a detailed description or could be open to interpretation or confusion.
The direction and magnitude of any loading conditions.
Relevant dimensions and locations of any key areas or components
Any assumptions or limitations adopted.

Materials and components under consideration.

Any associated minimum design values and structural properties.
If there are multiple options or variations on the market, reference to where the material or component was selected from can be an important factor.
Any assumptions or limitations adopted.

Equations or Conditions to be Satisfied.

Reference to where the equation or condition was obtained or originated.
A list of equation specific values and design factors, the units of those values where applicable and reference to where they were obtained from. The source of the information as well as the date that information was created or compiled can also be beneficial.
Detailed workings showing the values applied to the equation or condition to be satisfied and the answer or result of such workings or calculations. It is good practise to round any final values conservatively.
A summery showing the outcome of the condition or equation, any minimum and maximum values, if conditions/equations were satisfied and any additional information or areas that will need to be looked into further.
Any assumptions or limitations adopted.

Any Additional Information

Additional information that could be useful.
References that were of benefit to the decision.
Summary of results and recommendations.
A section showing that the design had/has been checked and approved by a suitably qualified person.
In the Margins (If Used)
The use of margins presents an opportunity to summarise information for quick and easy identification. Putting references and final results or outcomes in the margins also aids in timely checking of the work at a later date. The use of margins has been shown in the below examples.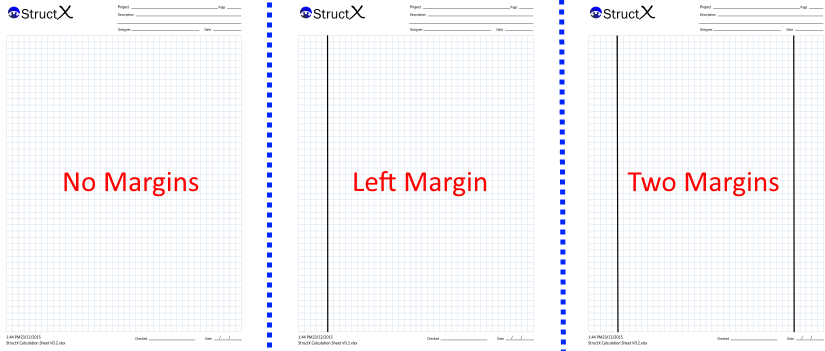 Hand Calculation Examples and Templates